Front Page> Mt. Fuji & Sabo Project > Innovation > Observation System
Observation System
Information infrastructure
To monitor the activities of debris flowings in the Osawa River and torrents at the southwest base of the mountain, we have installed and maintained rain gauges, surveillance cameras, wire sensors, and promoted the monitoring live to protect lives.
Also we are considering the development of volcano monitoring system by CCTV camera, etc. for the volcano disaster measurements.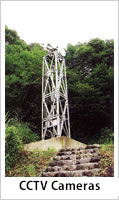 For the purpose of debris flow monitoring and volcanic activity monitoring of Mt. Fuji, the CCTV camera system enables real-time monitoring on the live video streaming through optical cable in offices.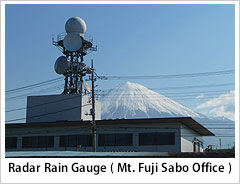 There are three X-band MP radar facilities installed by Chubu Regional Development Bureau in Shizuoka Prefecture, and the rain gauge provides detailed information in real time.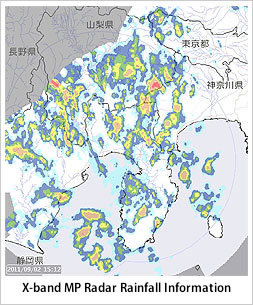 ---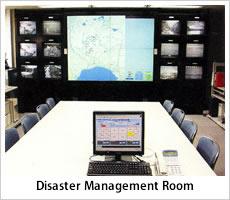 Images from the project area, precipitation infromation, water level of rivers, and various types of weather information are aggregated to this disaster management room. Also the management room plays a central role in taking the disaster controls.
It is possible to measure the water level and quantity of the debris flow.
Iwadoi water-level gauging station is one of the important surveillance points on our project.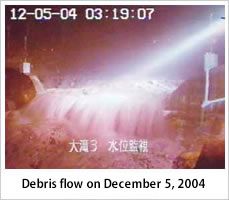 ---
Volcano Observation System at Mt. Fuji
We have prepared to make the monitoring activities live by CCTV cameras at Mt. Fuji Sabo office whenever starting the eruption activity at Mt. Fuji.
Then, we will make and maintain the information sharing system to share information and videos that are related to the oganizations.
For the public, we will develop a system to view information such as videos using the Internet.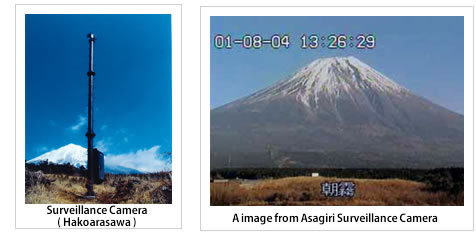 ---